In accordance with the provisions of Article 6-III and 9 of the Confidence in Digital Economy Act n° n°2004-575 from 21th June 2004, the following legal notices are presented to the users of the https://www.francegalop-live.com website.
The current website is published by:
FRANCE GALOP
Society of Encouragement for the Improvement of the Races of Flat horses in France
Association regulated by the 1st July 1901 Act
With headquarters at 15 Boulevard de Douaumont CS 64440 75819 Paris Cedex
Registered in JOAFE with R.N.A. number: W923001417
Intracommunity VAT number: FR 48 401 415 500
Phone: +33 (0)1 49 10 20 30
Fax : +33 (0)1 47 61 93 37
[email protected]
The Publisher of the current website is: Olivier DELLOYE
The current website is hosted by:
ECRITEL
With headquarters in Paris (75017) – 19 rue Alphonse de Neuville
Phone: +33 (0)1 40 61 20 00
[email protected]
CREDITS
The current website was designed by:
Wetix Agency,
114 rue Chaptal, 92300 Levallois Perret – France
RCS Nanterre 481 154 938
Photo credits:
France Galop
APRH
Scoopdyga
Share&Dare
Florian Léger – Share&Dare
Bruno Vandevelde
BETTING IS JUST A HOBBY
Since 1983, the PMU has been committed to Responsible Gambling. France Galop supports this scheme, which aims to ensure that betting is a hobby like any other, and does not become a problem. If you are concerned, please contact SOS-Joueurs, a non-profit organisation whose aim is to help gamblers in difficulty and their families. You can visit their website at:
www.sosjoueurs.org or by telephone on +33-(0)9-69-39-55-12 (cost of a local call from a French landline).
Gambling involves risks: isolation, debt, etc. Call +33-(0)9-74-75-13-13 (cost of a local call from a French landline).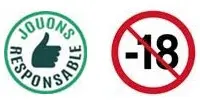 All copyrights and broadcasting rights reserved. ©France Galop.
Strictly personal use.
The website user confirms that they have read and understood the present legal information regarding this website, and agree to respect the above provisions.